Physician offices often accept sample pharmaceutical drugs and over-the-counter medicines to offer to patients. This helps build rapport with patients by allowing them to try a drug before buying, reducing the cost of healthcare and providing a gesture of goodwill.
However, a successful sampling program requires administrative support. It is important to note that dispensing over-the-counter and pharmaceutical drug samples are quite different. For the purpose of this blog, we are referring to the distribution of over-the-counter medicine samples to patients.
Accepting and Storing Samples:
There should be a proper documentation procedure in place when accepting any type of sample. Upon receipt, samples should immediately be taken to a dedicated, locked storage area.
It is recommended that sample medications with similar names and/or packaging be stored in separate areas to avoid confusion, and that labels face out.
Supplies should be checked monthly, at a minimum, for expirations, supply quantities, and overall accuracy of storage procedures. If a patient asks about an expiration date, it's recommended to tell them the situation
. In any case, it's best to distribute medications by expiration date, distributing the soonest to expire first.
Secure Your Samples:
It's highly recommended that dedicated storage areas be locked and not accessible by unauthorized individuals. This ensures the safety of patients and prevents unauthorized use, reducing liability for you and your practice.
In addition, Genexa recommends having 1 unit of a provider's favorite product samples stored securely in each patient room so they are easily accessible by authorized personnel when needed.
Dispensing Your Samples:
Each practice should assign individuals access to the sample closet. Product samples should be properly documented when dispensed to patients. Only those individuals with authorized access should retrieve samples from the secure storage area as well as accept samples upon delivery.
If your practice dispenses products with goodie bags, follow the same procedure. Simply note the products taken out for distribution, and at the end of the day, note inventory for the next business day.
We recommend that you provide samples to patients at every visit, not just when a patient is sick or a parent makes a request. This gives you an opportunity to demonstrate your knowledge of medicinal products on the market and your commitment to the patient's health. Caregivers are looking to you for help.
Why not challenge yourself to be intentional about answering the unasked questions? Some healthcare professionals find it helpful to have product posters in patient rooms and prescription tear sheets available to serve as a reminder to prompt product conversations.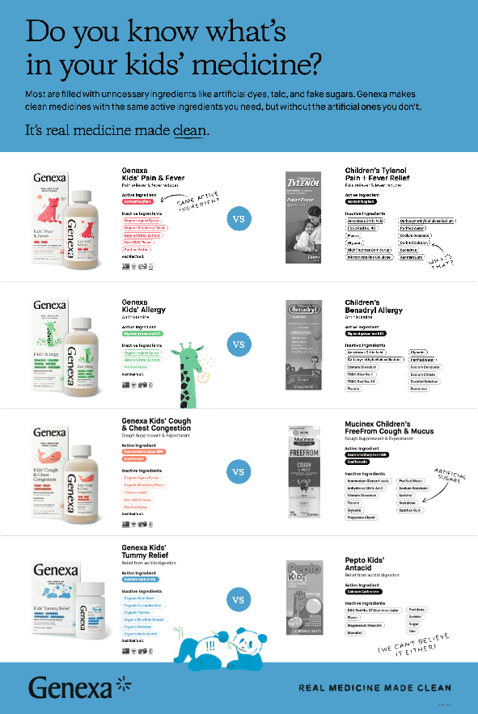 Make sure to discuss appropriate dosage with parents. If available, provide them with a dosage chart like
from Genexa. Utilize the Genexa tear pad to give parents a visual reminder of your recommendation.
We also know that caregivers ask where they can find products. Genexa tear sheets have a handy QR code that can be scanned to identify where products can be purchased nearby.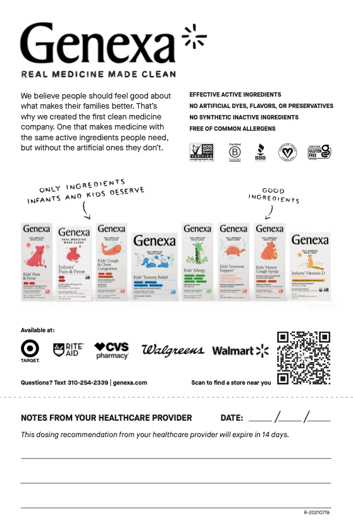 With the current environment of healthcare, most physician offices do not have the staff they used to. Seek to partner with manufacturers, like Genexa, who offer eSampling, which allows eligible physicians to request samples via a web-based system. As a member of Genexa's HCP Network, you have direct access to order samples with the simple click of a button
.
Genexa delivers personalized customer service to our HCP Network members. If we can support you in putting more structure around your sampling program, please reach out to Nico directly at nmiller@genexa.com.
Interested in a seamless sampling program?
Interested in joining our sampling program? Click here to join our HCP Network where you will receive free samples of pediatric acetaminophen as well as exclusive opportunities and product coupons. To learn more about Genexa, visit our website and check out this video.
About Genexa
We're Genexa and we're the first clean medicine company. Founded by two dads on a mission to revolutionize the medicine aisle, Genexa makes medicine with the same active ingredients people need, but without the artificial inactive ones they don't. We believe people deserve a clean choice.
That's why our business is built on the commitment to put people over everything. All of our products are made to the highest standards of clean with no artificial dyes, common allergens, or unnecessary synthetic ingredients. It's real medicine, made clean. Learn how we're putting people over everything, in everything we do, at Genexa.com.