Did you know that many oral suspension products on the market contain unnecessary artificial inactive ingredients like sucralose, red dye no. 40, and high fructose corn syrup?
Genexa Kids' Pain & Fever is a conventional over-the-counter drug made with the same effective active ingredient, acetaminophen, but without artificial fillers.
Let's take a closer look at the differences between Genexa Kids' Pain & Fever and Children's TYLENOL® Oral Suspension Cherry.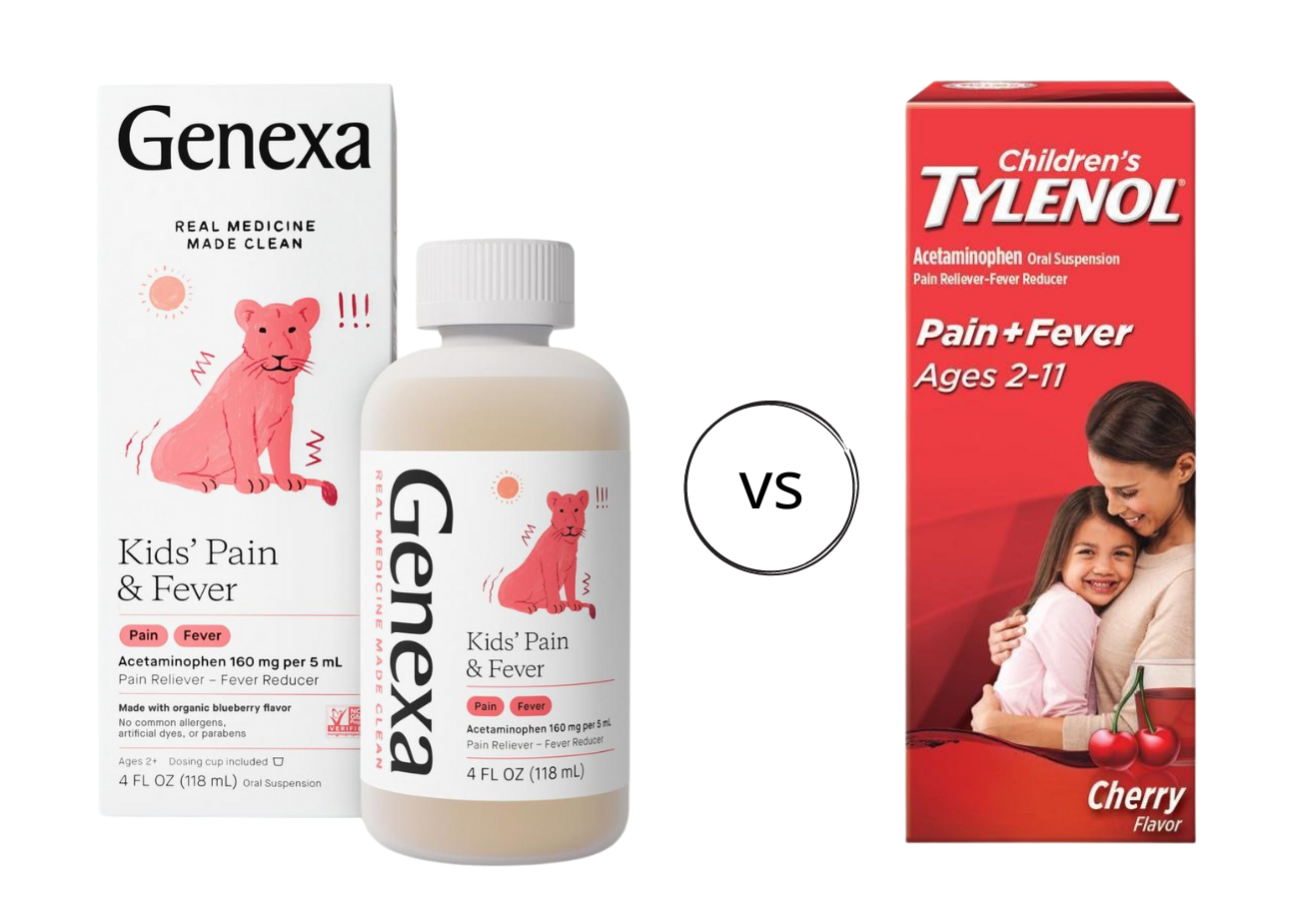 Genexa Kids' Pain & Fever
Children's TYLENOL

®

Pain + Fever Oral Suspension, Cherry Flavor

Active Ingredient(s):

Acetaminophen 160 mg in each 5 mL

Active Ingredient(s):

Acetaminophen 160 mg in each 5 mL

Inactive Ingredient(s):

organic agave syrup, organic blueberry flavor, natural citrus extract, non-GMO flavor, purified water.

Inactive Ingredient(s):

anhydrous citric acid, FD&C red no. 40, flavors, glycerin, high fructose corn syrup, microcrystalline cellulose and carboxymethylcellulose sodium, purified water, sodium benzoate, sorbitol solution, sucralose, xanthan gum
At Genexa, we believe your patients deserve to have a choice when it comes to their medicine, which is why we choose not to use artificial inactive ingredients in our medicines.
Interested in free samples for your office?
Genexa Kids' Pain & Fever is acetaminophen made without unnecessary artificial inactive ingredients. To request samples, fill out this short application, or to re-order samples click here. You can learn more about Genexa at our website and by watching our brand video.
About Genexa
We're Genexa and we're the first clean medicine company. Founded by two dads on a mission to revolutionize the medicine aisle, Genexa makes medicine with the same active ingredients people need, but without the artificial inactive ones they don't. We believe people deserve a clean choice. That's why our business is built on the commitment to put people over everything.
All of our products are made to the highest standards of clean with no artificial dyes, common allergens, or unnecessary synthetic ingredients. It's real medicine, made clean. Learn how we're putting people over everything, in everything we do, at Genexa.com. And to find a Genexa retailer near you, visit our interactive Store Locator.